By placing fermentation at the heart of its business, Lesaffre is playing a part in employing biotechnology advances for a healthier and more sustainable future. The incredible potential of microorganisms (yeasts, bacteria…) enables Lesaffre to position itself in the markets for baking, taste and food pleasure, nutrition/health and industrial biotechnology. In each of these fields, Lesaffre's aim is to compete to better nourish and protect the planet.
Lesaffre's

businesses are organized in 4 clusters :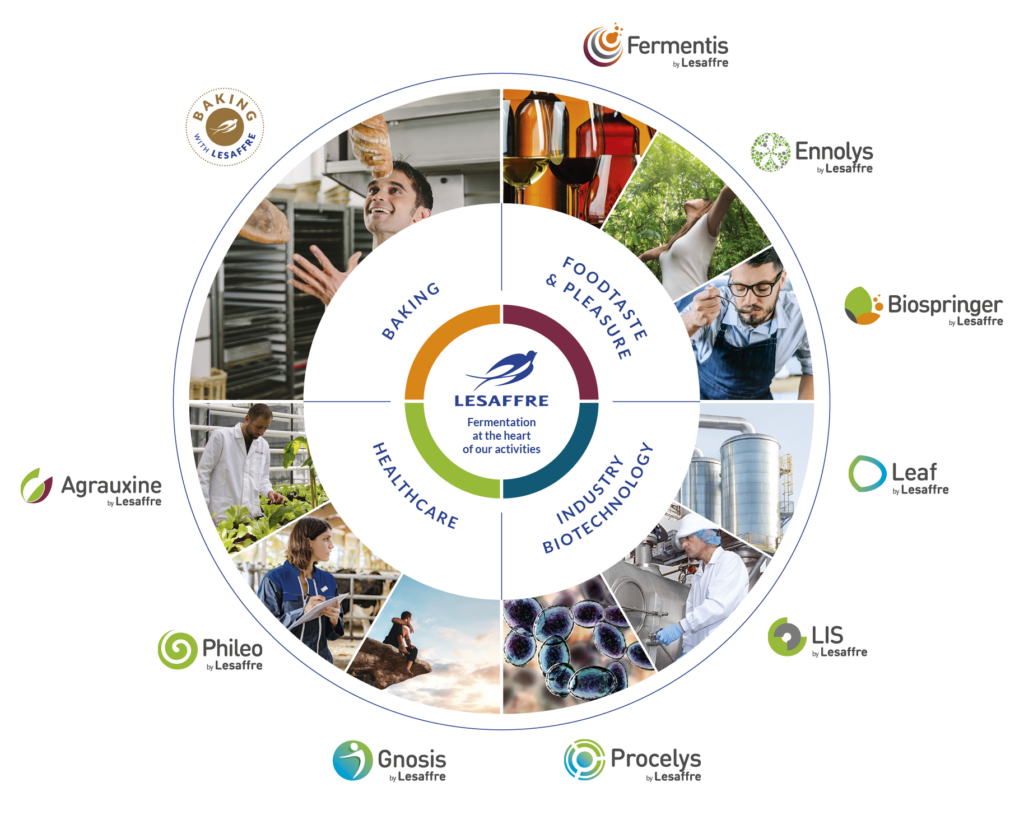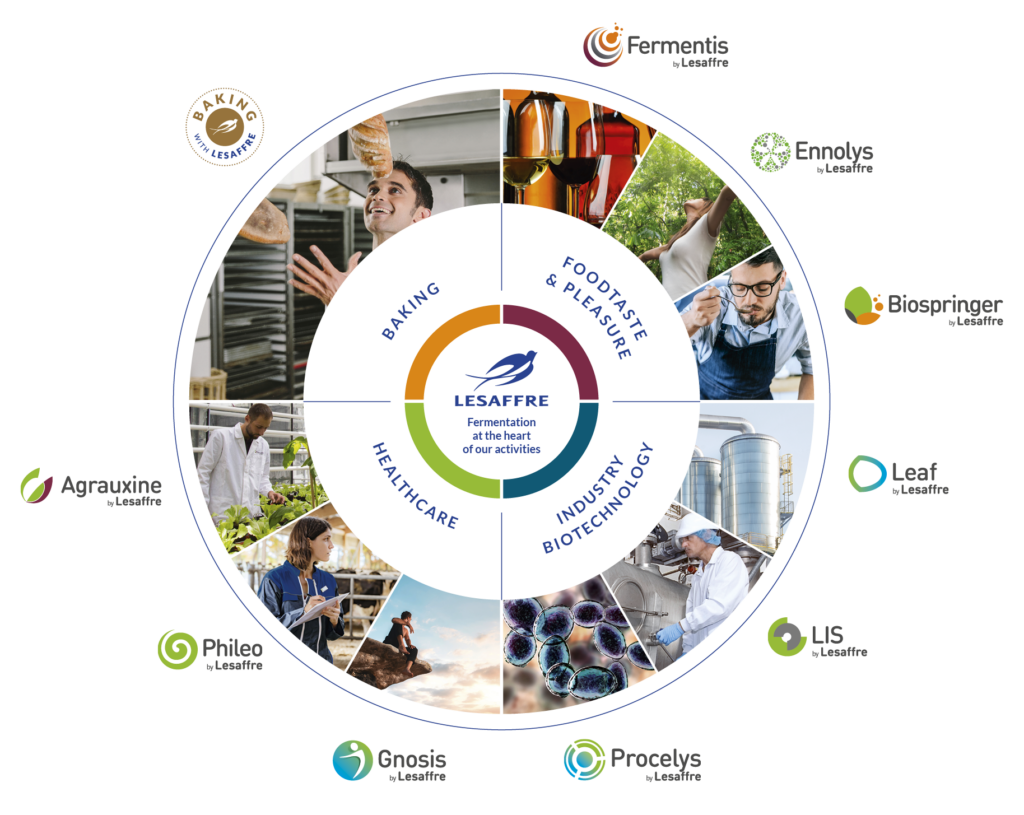 Referent in baking fermentation since 1853, Lesaffre provides its expertise and know-how through its Baking with Lesaffre offer. Every day, Lesaffre co-innovates with bakers all over the world around 6 engagements programs: Bake for Smile, Bake for Care, Bake for Good, Bake it Safe, Bake it Smart and Bake it Easy. Be inspired by Baking with Lesaffre and bake what you imagine!
The agrifood industry is undergoing a major shift: what we eat and drink is no longer just about sustenance. These products are taking center stage across a wide range of topics — most notably concerning food taste and pleasure, but also nutrition, wellbeing, environmental impact and energy consumption.
Biospringer is a key player and global producer of natural origin yeast ingredients for the food industry.
Its comprehensive products range includes yeast extracts, dried food yeasts, yeast-based flavors and more. Biospringer offers solutions to improve the flavor profile of recipes and participate in the development of healthier everyday consumers' products. With 8 productions plants, a network of commercial teams, Culinary centers around the world, a team of technologists, R&D, Biospringer brings taste and pleasure to consumers.

Fermentis works with everyone in the world of beer, wine, spirits and other fermented beverages. Its range of products and services covers almost all professional requirements: from safeguarding production to expressing sensory characteristics. Business Unit of Lesaffre, global key player in fermentation and yeasts, Fermentis builds solutions and results upon its talented experts, visionary R&D program, industrial expertise which meets the highest international quality standards and a strong and coherent marketing and communication strategy. Its mission? Become the obvious choice for brewers, winemakers and all producers of fermented beverages, helping them express their inventiveness and creativity.

Ennolys offers biotechnology advances to flavorists, manufacturers in food, perfume and nutraceutical. This Lesaffre's business unit combines two activities around the expertise of fermentation. Ennolys develops a wide range of natural aromatic molecules, including vanillin. Being very flexible, its industrial tools are able to ensure toll fermentation for a wide range of natural ingredients and ensure their post-treatment. 100 employees worldwide are committed to naturalness, customers' satisfaction and innovation. 

By 2050, our planet will be home to an estimated 9 billion people. With this population boom will come a growing focus on overall health and wellbeing — for the human population but also for the plants and animals that share our planet. And as we plan for the future, it is no longer enough to be healthy today; we need to design future-minded products and solutions that are sustainable, productive and respectful of humankind and the environment.
At Gnosis by Lesaffre, we harness the power of microorganisms and biotransformation processes like fermentation to create nutritional actives, probiotics, and nutritional and functional yeasts that benefit human health and wellbeing. We collaborate with nutraceutical and pharmaceutical brands to develop game-changing, on-trend products for their customers.

We support partners globally, from family farmers to major feed industry players, constantly pursuing improved levels of animal health, welfare and productivity within the context of maximum sustainability. We develop tailor-made solutions by mastering microbiota and immunity, based on sound science and trials evidence, helping animal keepers reduce their use of antibiotics to the absolute minimum. Our rich array of proprietary probiotics is designed to address the lifecycle needs of animals across a wide diversity of pets, farm livestock, fish, and insects. Let's act with nature for animal care.

Agrauxine is a key technical and industrial player in the biocontrol, biostimulation and bionutrition. Structured in 2014, Agrauxine is the business unit of Lesaffre dedicated to biosolutions for crops protections. Agrauxine develops, manufactures and commercializes solutions of biocontrol, biostimulation, and bionutrition based on microorganisms or their derivatives.
Today, the company has more than 100 employees above 3 continents (North America, South America and Europe) more than a quarter of whom are focused on research and technical development. Agrauxine experts are commercially present in more than 40 countries. 

We are convinced that offering a more sustainable world to future generations requires organizations around the globe to commit to corporate social responsibility. At Lesaffre, we contribute to this goal every day by tapping into our expertise in fermentation solutions and innovating in the field of biotechnologies.
Procelys aims to support the biotechnology industry by providing nutrients and expertise to improve growth and productivity of microorganisms and cell culture. This Lesaffre's business unit develops a wide range of specific fermentation nutrients designed for biopharma, food & feed bioingredients, food cultures & probiotics, renewable chemicals and biocontrol industries. Strengthened by being a part of Lesaffre and drawing upon its expertise worldwide, Procelys fosters a strong proximity with its customers.

Leaf benefits from Lesaffre's expertise to develop fermentation solutions for industrial manufacturers looking to reduce their environmental footprint. Our focus is to offer innovative fermentation solutions to exceed the technical and economical expectations of our partners worldwide.
Industrial ethanol solutions: A comprehensive range of yeasts and yeast products complemented and supported by our team of technical experts in ethanol production.
Advanced fermentation services: Development of economically viable fermentation solutions for the substitution of petro-based molecules or the creation of new renewable molecules.

With two production sites in Europe (France and Poland) and more than 50 years' spray drying experience working with several hundred different products, LIS is a key provider of spray-drying services to ingredient producers. LIS also provides its markets with several gentle drying technologies (continuous vacuum, EPTTM), recognized know-how concerning encapsulation in addition to extensive possibilities for contract mixing and packing services. Finally, with its Powder Studio® in Rennes (France), LIS proposes joint development services to support its clients in the initial phases of developing a drying process: choice of technology, choice of medium or active protective agent, and the characterization of powders according to their applications, etc.